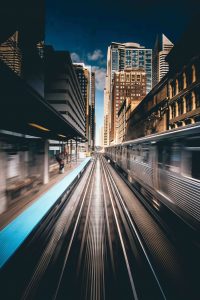 Critics can be difficult for fledgling artists to take, but most criticism is constructive and nonviolent. This was not the case for a Chicago busker who ran into the wrong woman at the wrong time. 38-year-old Barbara Johnson stabbed 28-year-old street performer, Michael Malinowski, at the Jackson El Stop because she claimed that his music was "giving her a headache."
Malinowski, who is better known as Machete Mike, had his guitar plugged into an amplifier. Johnson allegedly unplugged the guitar from the amplifier and threw it onto the tracks before stabbing Malinowski. Prosecutors allege that she also attempted to push Malinowski onto the tracks, but failed to do so. It was then that she settled for his guitar and took out a knife and stabbed him.
Johnson was arrested at the scene and has been charged with aggravated battery with a deadly weapon, aggravated battery in a public place, and criminal damage to property.