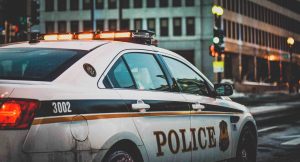 A man was charged with attempted murder after a shootout in South Shore on the night of the Chicago mayoral election. 38-year-old Flamingo Jones was charged with attempted first-degree murder of a police officer. As stated by Cook County prosecutors, on February 26th at 7:30 p.m., police in plain clothes sitting in an unmarked cruiser were investigating an individual wanted on an arrest warrant. During the investigation, they saw Jones on the 7400 block of South Bennett Avenue.
Jones fled on foot after seeing the officers, who were wearing ballistic vests and badges that identified them as police. The officers gave chase, with one of them catching up to Jones. The officer saw Jones holding a firearm and ordered Jones to drop the weapon. Jones continued to run, jumping over a fence with the gun in hand.
According to Assistant State's Attorney Jamie Santini, the officer feared for his life and discharged his weapon but did not strike Jones. As he emerged from an alley, Jones aimed his weapon toward the officer, at which point the officer fired at Jones again. Jones fell to the ground and shot at the officer. He then fired at uniformed police as they arrived on the scene. The uniformed officers returned fire, shooting Jones in the feet.