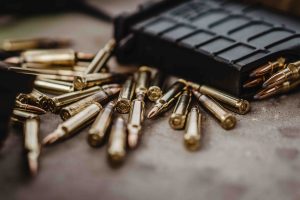 Vertis Peterson was out on bond for an unrelated weapons charge when police say he repeatedly shot his neighbor's brother multiple times. Records show that Peterson posted a $200 bond after being charged with felony weapons possession and a misdemeanor count of marijuana possession. 
According to police, Peterson was standing on his porch next to his grandmother when he got into an argument with his neighbor's brother, a 63-year-old man who had the apparent misfortune of walking down the block at the same time Peterson was on the porch. Peterson pulled a .22 on the man and allegedly fired it six times hitting him in the hip, abdomen, and arm. The 63-year-old survived the assault, but not Peterson is facing an attempted first-degree murder charge. His grandmother refused to allow him entry to her home after he emptied his revolver into the neighbor's brother. The man was able to identify Peterson in a photo lineup. 
Peterson has two prior convictions for domestic battery.