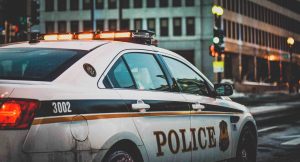 A man was charged with attempted murder after a shootout in South Shore on the night of the Chicago mayoral election. 38-year-old Flamingo Jones was charged with attempted first-degree murder of a police officer. As stated by Cook County prosecutors, on February 26th at 7:30 p.m., police in plain clothes sitting in an unmarked cruiser were investigating an individual wanted on an arrest warrant. During the investigation, they saw Jones on the 7400 block of South Bennett Avenue.
Jones fled on foot after seeing the officers, who were wearing ballistic vests and badges that identified them as police. The officers gave chase, with one of them catching up to Jones. The officer saw Jones holding a firearm and ordered Jones to drop the weapon. Jones continued to run, jumping over a fence with the gun in hand.
According to Assistant State's Attorney Jamie Santini, the officer feared for his life and discharged his weapon but did not strike Jones. As he emerged from an alley, Jones aimed his weapon toward the officer, at which point the officer fired at Jones again. Jones fell to the ground and shot at the officer. He then fired at uniformed police as they arrived on the scene. The uniformed officers returned fire, shooting Jones in the feet.
He was then taken into custody and a gun was found nearby.
Jones, a father of three young girls, was on parole at the time of incident. In 2012, he was charged with a weapons violation. He was released in August of 2018, according to records from the Illinois Department of Corrections.
If you are facing weapons charges, a knowledgeable gun crime defense lawyer in Chicago can help.
Gun Law in the State of Illinois
In Illinois, anyone who does not have a concealed handgun permit is required to obtain a Firearm Owner's Identification Card (FOID). It lasts for 10 years and grants the holder the right to buy or possess firearms and ammunition. The FOID cardholder will have to undergo a mandatory background check as part of the licensing process.
State law also gives law enforcement and family members the right to temporarily disarm people who are dangerous under a Firearms Restraining Order or Extreme Risk Protection Order. The person considered dangerous is not disarmed using physical force. Instead, police or family can petition a court for a civil order that prevents a dangerous person from accessing a firearm for up to six months.
Gun law in Illinois imposes mandatory waiting periods between the time a person buys a firearm to the time he or she acquires possession of it.
One of the most important regulations on the books is the Child Access Prevention Law, which makes it illegal for a firearm to be unlocked and accessible to anyone under 14 years of age.
State law also requires anyone who finds a firearm to immediately turn it over to the police.
If you are dealing with any issues related to weapons charges, do not put your freedom in the hands of a court-appointed attorney.
Violent Crimes Defense Lawyer in Chicago
David L. Freidberg will provide intelligent and aggressive criminal defense on your behalf if you are facing weapons charges.
He provides a diverse number of defenses against charges of:
Illegal possession of a weapon

Unlicensed sale of a weapon

Possession of an illegal firearm

Felony firearm possession

Assault with a deadly weapon
Keep in mind that if a weapon is used during the commission of a crime, the penalties are much more severe.
Schedule a free consultation or call (312) 560-7100 today to discuss your case. Mr. Freidberg is exceptionally well versed in Illinois weapon laws. He will closely examine the circumstances of your case to build a strong defense for you. Contact us to learn how we can assist you.
(image courtesy of Matt Popovich)