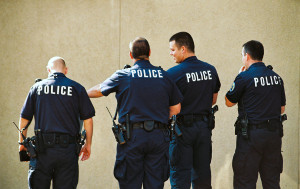 Law enforcement needs community cooperation, involvement, and support. The community needs law enforcement to "protect" it from criminal behavior and to "serve" it in dangerous situations. Both the community and law enforcement need each other in order to keep chaos at bay. But there are communities and neighborhoods in every state that do not understand this concept of interdependency. In those communities, the mistrust runs deep, unfortunately, spurred on by the media, by special interest groups for whatever political clout they feel they can get from it, and of course criminal elements that take advantage of the chasm between the police and residents.
The special interest groups, out of their own misguided intentions and misunderstanding of the importance of having the police and the communities work together, are convinced that law enforcement is the enemy. They are waging a very effective PR campaign again law enforcement, so much so that some communities are being made to believe that law enforcement and not the gang activity in the communities is destroying the neighborhoods.
Civil disobedience and glaring disrespect is the name of the name when there is any interaction between the police and members of these communities, including something as small as a traffic stop. These problems keep the police on high alert when they are called upon to enforce the law in these communities. This lack of mutual respect and trust between law enforcement and the neighborhoods has created a breeding ground for criminal activity.