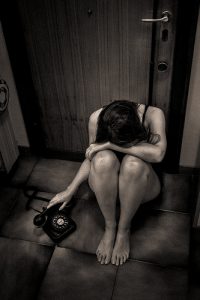 According to the Chicago Metropolitan Battered Women's Network, approximately 77% of women who are currently incarcerated are victims of abuse. This figure is staggering and is part of the reason why this nonprofit helped to pass Illinois' new domestic violence law, SB0209. SB0209 is important because it allows being a victim of domestic violence to be a mitigating factor at sentencing. A mitigating factor is any information presented to the court, generally about the defendant or the circumstances surrounding the crime, that has the potential to reduce the defendant's sentence or the crime charged. Therefore, SB0209 was passed in order to enable courts in our state to reduce a defendant's sentence if he or she was a victim of domestic violence.
Bill SB0209: History of Domestic Violence as a Mitigating Factor
According to  SB0209, if a defendant is or was a victim of domestic violence, and the domestic violence tended to excuse or justify his or her criminal conduct, then evidence of the abuse can be a mitigating factor at sentencing. In order to claim being a victim of domestic violence as a mitigating factor, the defendant must prove the following by a preponderance of the evidence:
He or she was convicted for a forcible felony,

His or her participation in the felony was related to their status as a victim of domestic violence at the hands of an intimate partner,

This evidence of domestic violence was not presented at the defendant's sentencing hearing,

During sentencing the defendant was not aware that this evidence could be used as a mitigating factor, and could not have learned of its significance sooner through diligence,

The evidence is material and doesn't go to prove a point that other evidence has already established, and

The evidence is of the type of that would likely change the sentence imposed by the original trial court.
Illinois' New Domestic Violence Law in Action
Although bill SB0209 went into effect on January 1, 2016, one of the first cases to take advantage of the new law will be heard soon. This case involves a 36-year-old woman from Naperville who is still behind bars for a crime that she committed when she was 18 years old, reports the Chicago Tribune. The woman is currently serving a 35 year sentence, without the possibility of parole, for her part in the brutal murder of her friend in 1999. The Chicago Tribune's article reports that the woman took a plea agreement after prosecutors claimed that she was involved in setting up the robbery that led to her then-boyfriend and his cousin beating the victim to death.
However, the woman may be looking at a reduced sentence now that being a victim of domestic violence can qualify as a mitigating factor in Illinois. She has filed a petition under SB0209 and a judge will soon hear her new evidence. The woman claims that at the time of the murder her boyfriend had been abusive towards her and that once he even tore ligaments in her neck. If the woman's petition is successful she will likely receive a reduced sentence and be the first defendant to benefit from Illinois' new domestic violence law.
Need Legal Advice?
If you are being investigated in connection with a crime in the Chicago Metropolitan Area, contact David L. Freidberg today for a free and confidential case review. Mr. Freidberg is an experienced criminal defense lawyer who is committed to protecting his clients' reputations and providing them with the best legal defense possible. Contact us today at our office in Chicago (312-560-7100).
See Related Links
Domestic Violence in Chicago: Men Are Victims Too