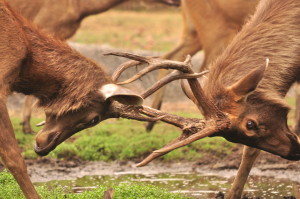 Criminal assault and battery, in most jurisdictions, is defined as an intentional act where one individual attempts to or does strike another individual; or acts in such a threatening manner as to place an individual in immediate fear of harm. Aggravated assault and battery is when an individual causes severe injury to another, often through the use of a deadly weapon.
Although "assault and battery" are related, under Illinois law they are two separate and distinct criminal offenses. State prosecutors may charge these two offenses separately, however, in order for a prosecutor to prosecute on a charge of battery, he must also prove the elements of an "assault."
An assault is the attempt to injure another person through threats or threatening behavior. It is viewed as an attempted battery, but is distinguished from an actual battery in that no contact is necessary for the assault. Wherein, in a case of "battery," the prosecutor must prove that the defendant caused bodily harm to his victim. Illinois state law requires that for a charge of aggravated battery, the defendant must have used a firearm, or some other deadly weapon, or caused harm to a child or a law enforcement officer.