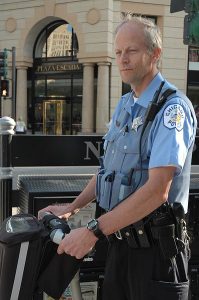 Last month, African American teenager Paul O'Neal was killed when a Chicago police officer shot him in the back during a controversial arrest. This shooting has outraged the African American community in Chicago and has worsened the already strained relationship between the police and the community. In fact, Fox News reports that three Chicago gangs are plotting to shoot police officers in retaliation. Apparently the Chicago Police Department (CPD) alerted its officers last week that three local gangs, the Vice Lords, the Black Disciples, and the Four Corner Hustlers, met in order to exchange guns and discuss plans to shoot CDP officers.  
Penalties for Killing, Harming, or Intimidating a Police Officer
Under federal law 18 U.S.C. § 1121, it is a capital offense to intentionally kill a state or local law enforcement officer or employee, who is working with federal law enforcement officials during a criminal investigation,:
While the officer is performing his or her official duties,

Because of the officer's duties, or

Because of the officer's status as a public servant.
Illinois state also has several laws that impose harsh punishments for crimes committed against police officers. For example, aggravated assault on a police officer (720 ILCS 5/12-2(a)(1)) is punishable by a fine of up to $2,500 and/or imprisonment for up to one year. If a firearm is used then the crime is elevated to a felony and is punishable by a fine of up to $25,000 and/or up to three years in prison. Additionally, aggravated intimidation of an on duty police officer (720 ILCS 5/12-6.2) is punishable by a fine of up to $25,000 and/or imprisonment for up to 14 years in prison.
Killing a Police Officer May Soon Qualify as a Hate Crime in Illinois
Additionally, legislation was recently proposed that, if passed, would make it a hate crime in Illinois to kill a police officer. Illinois' current hate crime statute applies when a victim is targeted because of their race, religion, sex, national origin, sexual orientation, physical or mental disability, prior or active military status, ancestry, or age. The proposed law would add past and current law enforcement officers to this list. Under the proposed law, anyone who victimizes a police officer because of their status as a law enforcement officer can be fined up to $2,500 and sentenced to up to six months in jail for committing a hate crime, in addition to any punishments imposed for committing the crime itself.
Need Legal Advice?
If you live in the Chicago Metropolitan Area and are being investigated in connection with a crime committed against a law enforcement officer it is important that you retain a lawyer who is committed to zealously protecting your rights. Attorney David Freidberg is an extremely talented and reliable criminal defense attorney who has plenty of experience defending clients in Illinois and would be happy to discuss your legal options with you during a free and confidential consultation. Call us today at (312) 560-7100.
See Related Links
Police Officers and Other First Responders May Soon Be Protected Under Chicago's Hate Crime Law
The Illinois State Police Murderer and Violent Offender Against Youth Registry
(image courtesy of Brett Gustafson)