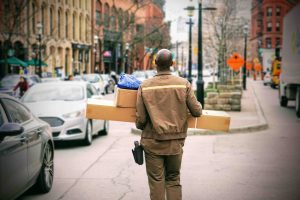 Chicago police have arrested and charged Alicia Newby who allegedly stole the identities of several people, purchased thousands of dollars of merchandise online, and had the merchandise mailed to dummy addresses. One of the people whose identities she stole was Taraji P. Henson, who is a star in the hit television series Empire. 
Alicia Newby is also the mother of six and has another child on the way. Newby is being represented by a court-appointed attorney. She is being charged with one count of continuing a financial crime enterprise. She has been released on $10,000 signature bail but is being monitored electronically and has been forbidden from contacting either victims of her alleged crimes or witnesses whom the prosecution intends to call.
Prosecutors Say Newby Managed to Hack Henson's Email
The key to accessing Henson's financial information appears to have been through her email. Those who have gmail or similar accounts can sync passwords to major sites, including online bank accounts through chrome. 
However, the police are still awaiting the results of forensic laboratory tests on the computer equipment Newby used to commit the fraud. Henson's manager, who oversees her financial information, noticed that she appeared to be shipping items to various residences that the manager did not recognize. This was as far back as August of the prior year.
Investigators caught Newby after they realized that the dummy addresses used to receive the merchandise had utilities in her name. However, she obtained leases at one of the addresses using a second victim's name. 
That seems like pretty damning evidence. Unless, of course, Newby was one of the victims. Police will look to tie merchandise found in Newby's home to the fraudulent credit card transactions she allegedly conducted in someone else's name. 
Additionally, the prosecution will present evidence that a postal worker, believing the address to be an identity theft shell address, refused to continue delivering packages there. The postal worker accuses Newby of assault and causing a scene at the post office. Police say they have Newby on camera complaining about the packages not being delivered there. 
Continuing a Financial Crime Enterprise
720 ILCS 5/16H‑55 defines Continuing a Financial Crime Enterprise as committing three or more financial crimes within an 18-month period. The burden of proof is on the prosecution to show that the three crimes were committed within this period. Intent is a requirement for a successful prosecution. The state's attorney must show that the defendant intended to defraud a financial institution or individual. 
Theft of over $12,000 (as alleged in this case) is considered a class-3 felony. Newby faces a two to five-year prison sentence although, probation is possible and a fine of $25,000 which is double what she stole.
Talk to a Chicago Criminal Defense Attorney Today
If you are accused of continuing a financial crime enterprise in the Chicago area, David. Freidberg, Attorney at Law can help you fight the charges. Talk to us today at (312) 560-7100 to learn more. 
(image courtesy of Maarten van den Heuvel)