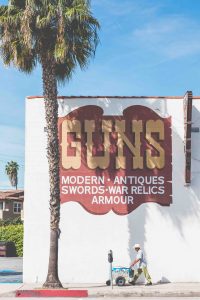 It is a sad fact, but it is still a true one: Gun violence in Chicago, Illinois is steadily climbing higher and higher. The amount of gun crimes taking place in the city is reaching what some consider to be an epidemic level, making residents feel fearful and unsafe. Meanwhile, there are two opposing camps that are warring over the best way to deal with the gun crime rates in the Windy City: Those who feel that more gun control is needed, and those who feel like less is needed. With gun violence on the rise and crime rates at unpleasant numbers, it is making dealing with the law itself increasingly difficult.
The Second Amendment
Until recently, guns could not even be purchased inside of Chicago. The local laws banned the sale of guns within the city limits. However, in 2016, this law was ruled as unconstitutional. Strong advocates of the Second Amendment were thrilled, but those in favor of gun control were not quite so happy with the outcome. Whatever the case, it became a fact of life: Guns were easier to obtain in Chicago. There is little evidence at the moment that gun laws were being broken either before or after this occurred, so the jury is still out on any strong connection.