Abortion is legal in the state of Illinois. But as a Humboldt Park woman discovered in January of this year, if you unintentionally cause the death of an unborn child, you could go to prison.
The woman was making a U-Turn from West North Avenue when she crashed in to a pregnant woman riding a scooter. The woman was tossed from the scooter, and doctors were later unable to locate the fetus' heartbeat. The driver was charged with one count of felony reckless homicide of an unborn child and one count of aggravated DUI causing bodily harm after a DUI kit showed she had marijuana in her system.
Reckless Homicide v. Involuntary Manslaughter of Unborn Child in Illinois.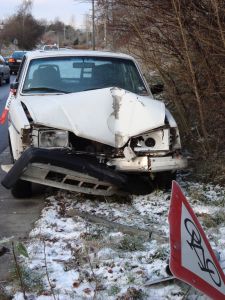 In Illinois reckless homicide of an unborn child occurs when the driver of a motor vehicle recklessly causes the death of, or great bodily harm to, the mother, which results in the unborn child's death. The charge applies whether the person's actions were lawful or unlawful. Reckless homicide is a Class 3 felony, punishable by two to five years in prison and up to a $25,000 fine.
If a motor vehicle is not involved, the charge is involuntary manslaughter.
Defense Against Illinois Reckless Homicide Charge
It is undeniably sad when an unborn child dies. However, even if you were involved in an accident that allegedly caused the death of that child, it does not automatically mean the death was your fault.
Like any vehicular case, David L. Freidberg will first look at the crime scene evidence and the police report. Experts may be able to disprove the prosecution's claim that you caused the accident, or that it happened in the manner they claim. Experts will look at evidence such as eyewitness statements, video surveillance footage, skid marks, estimated speed and driving conditions in an attempt to reconstruct the accident to determine if your actions were reckless. They will also look at the actions of the other driver or pedestrian to determine if you even caused the accident.
Medical experts may also examine the mother's medical history related to the pregnancy. Stillbirth, which is the in utero death of a fetus past 20 weeks gestation, occurs in 1 out of every 160 pregnancies; miscarriage, which is the spontaneous loss of a fetus prior to 20 weeks gestation, occurs in 10–25% of all pregnancies. It is therefore possible that the unborn child had died prior to the accident, and it was just discovered during the hospital's examination of the mother following the accident. Examination of the mother's medical records will show whether the mother had experienced any complications, or if the unborn child had any abnormalities, that could have resulted in an in utero death days or weeks prior to the accident.
If the unborn child died following the accident, medical experts would review the mother's medical records looking for the same information. If an autopsy of the unborn child was performed, that may have evidence of an underlying condition that could have resulted in the child's death, rather than the accident. The fact that an unborn child died near the time of the accident does not automatically mean the accident was the cause of death, and David L. Freidberg can help uncover other possible causes of death. Continue reading