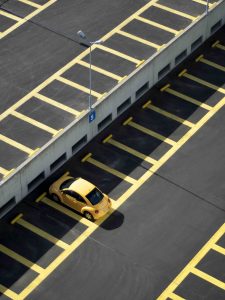 Parolee Donald Thurman is accused of raping and then murdering a University of Illinois honor student. Prosecutors say that he followed the woman to her car as she was coming out of class. They also say that she ignored several attempts to initiate conversation and that drew the ire of Thurman who put her in a chokehold until she passed out and then raped her in her own car. Prosecutors used surveillance footage of a nearby parking garage to show that Thurman followed the woman to her car. They traced a palm print from the woman's car to Thurman and searched his home finding a distinctive white jacket that he wore in the video. 
Thurman's Confession
Thurman confessed to sexually assaulting the woman and physically attacking her, but he denied technically raping her. The woman was found in her car and pronounced dead at the scene. She died from strangulation.
If convicted, Thurman will spend the rest of his life in prison. His prior conviction was for robbery of an iPhone, but police say he also fled in a stolen car. 
Thurman's public defender says that he has a history of mental health issues. After his parole, Thurman worked as a dishwasher and at an animal control shelter but has not managed to find a steady place to live. Thurman was ordered held without bond during his trial.
Thurman was "Angry at Being Ignored"
Police say that the girl attended a school-related event for those pursuing medical degrees. She and a friend took a rideshare back to campus and then she walked to her car from there. Thurman noticed her and tried to strike up a conversation, pestering her and catcalling her. When the woman ignored his attempts, Thurman grew angry and that is when he attacked her, placing her in a chokehold. In addition to video footage, police say there were drag marks near the victim's car. 35 minutes after capturing him on camera, Thurman could be seen running from the parking garage. 
Thurman admitted to having sexual contact with the victim but denied having penetrative intercourse. 
Analyzing the Case Against Thurman
The case against Thurman appears rock solid. Thurman has confessed to sexually assaulting the victim and placing her in a chokehold. There is very little reason for the jury to believe that he was not the one who also murdered her. 
In a case like this, where the prosecution has a confession to the majority of the criminal activity, the defense is left in a position of proving that Thurman was not the woman who killed her. That is a tall order because, if he did not do it, then who did? There is no one else to blame this crime on, so the burden of proof shifts to the defense.
Talk to a Chicago Criminal Defense Attorney Today
If you have been charged with a serious crime in Chicago, then you need a serious defense attorney who can manage your case. Call David Freidberg today at (312) 560-7100 and we can begin preparing your defense immediately.