On July 8, David J. Marks was sentenced to serve three years in the Illinois Department of Corrections followed by a four-year term of mandatory supervised release for his conviction of aggravated domestic battery.  He pled guilty to the charge last month.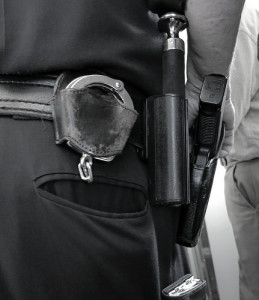 According to a news report, Marks was arrested in the parking lot of a Best Buy store in Carbondale after a battery incident was reported. According to the officers, they arrived at the Best Buy parking after two private citizens heard the victim cry for help and intervened, which allowed the victim to escape. The victim told police that Marks, her ex-boyfriend, came to her home and abducted her against her will. When they arrived at the Best Buy parking lot, Marks allegedly used a seatbelt to try to strangle her and prevented her from leaving the vehicle. After the private citizens intervened, Marks drove off but was later apprehended.
Domestic Battery Laws in Illinois
Under Illinois statute, a person is guilty of domestic battery if he or she causes bodily harm or makes physical contact of an insulting or provoking nature with any family or household member. The statute does not distinguish between minor or serious injuries – therefore, even minor scratches, bruises, or cuts will suffice for a charge of domestic battery.  Even when no injury results from physical contact, a charge may still be brought if the contact was insulting or provoking.
A "family or household member" includes the following individuals:
Spouses or ex-spouses;
Parents, children, stepchildren and other persons related by blood or by marriage;
Individuals who share or formerly shared a common home;
Individuals who have or allegedly have a child in common, or individuals who share or allegedly share a blood relationship through a child;
Individuals who have or have been dating or are engaged; and
Individuals with disabilities and their personal assistants and caregivers.
A first offense of domestic battery is usually charged as a Class A misdemeanor. However, if the defendant has a prior domestic battery conviction, has violated an order of protection, or if other aggravating factors are present, then it is a Class 4 felony. Aggravating factors include causing great bodily harm, permanent disability or disfigurement, if the victim was pregnant when the alleged battery occurred, or battery involving a deadly weapon or strangulation. In the case above, Marks pled guilty to attempting to strangle the victim, which is why he was convicted of aggravated domestic battery.
Penalties for Domestic Battery
The maximum penalty for a Class A misdemeanor is up to one year in jail and a fine of $2,500. Normally, first offenders are eligible for court supervision in most misdemeanor cases.  However, with regard to domestic battery, defendants are not eligible for court supervision and the mandatory minimum sentence involves a conviction. A conviction for domestic battery can never be expunged or sealed from a defendant's record. Therefore, domestic battery is considered to be a more serious offense than other misdemeanors. If the charge is for aggravated domestic battery, is a Class 4 felony and carries a possible sentence of one to three years imprisonment.
Chicago Domestic Battery Attorney
If you or a loved one has been arrested on suspicion of domestic battery, contact Chicago criminal defense attorney David L. Freidberg. With more than 17 years' experience as a Chicago defense attorney in domestic battery cases, David L. Freidberg has built a reputation as an aggressive defense attorney who will explore all avenues of possible defense, especially since a domestic battery conviction has very serious consequences and can never be sealed or expunged. Contact our Chicago, Skokie or DuPage County office 24/7 at 312-560-7100 to schedule a free initial consultation.