On June 30, Florida State University quarterback De'Andre Johnson was charged with misdemeanor battery from an incident in which he allegedly punched a 21-year-old woman in a bar. According to prosecutors, Johnson was involved in a confrontation with the woman after she cut in front of him while they were waiting to place their orders at a bar near the Florida State campus. Witnesses stated that the woman raised her arms and heard her yell "no" twice before Johnson grabbed her and punched her in the face. Court documents stated the woman was trying to defend herself while she was being pushed and grabbed by Johnson.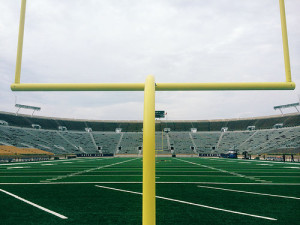 Johnson's lawyers indicated that Johnson was acting in self-defense, stating that the woman raised her fist and shouted racial epithets at him when he accidentally made contact when he was walking up to the bar. Johnson allegedly tried to deescalate the situation, but the woman kneed him in the groin area and tried to hit him before he retaliated. The lawyer stated that he did not react until the woman struck him twice.
Battery
In Illinois, battery is a criminal offense that may either be a misdemeanor or felony, depending on whether there is a serious injury. Illinois criminal code states that battery occurs if a person intentionally or knowingly causes bodily harm to an individual or makes physical contact of an insulting or provoking nature. It is normally a Class A misdemeanor offense that carries a possible one-year prison sentence and a fine of $2,500. Illinois courts may sentence a battery defendant  to probation as opposed to imprisonment, and order community service and counseling.
Self-defense
A defendant against a battery charge may raise self-defense to justify his or her actions. In order to prove that the defendant was acting in self-defense, he or she must prove the following:
The defendant believed that force was necessary. The defendant claiming self-defense must have a reasonable belief that the force he or she used was necessary.  In this case, Johnson has to prove that he needed to respond by punching the woman in the face in order to defend himself.  If all the woman did was say an insulting comment without any indicator that she was about to physically attack him, then Johnson may not be able to succeed in his self-defense claim. However, if Johnson can prove that the woman kneed him in the groin and actually tried to hit him twice, he may be able to prove that he actually believed that he needed to use force to defend himself.
The amount of force used is reasonable. In addition to believing that force was necessary, a defendant has to also prove that the amount of force used was reasonable. Here, Johnson would have to prove that punching the woman in the face with enough force to cause a black eye was reasonable in light of her use of force against him.
The defendant's action was against imminent unlawful force against him or her. Johnson can only use self-defense if he can prove that he was defending himself against the imminent use of unlawful force against him. This threat of force must be imminent. If the prosecution can prove that all the victim did was issue verbal insults without showing an imminent attack on Johnson, he would likely not prevail in asserting self-defense.
Chicago Battery Attorney
Even misdemeanor battery can result in imprisonment, if charges result in a conviction. Claiming self-defense is a complex legal question that can be difficult to prove. If you or a loved one has been arrested on suspicion of battery, contact Chicago criminal defense attorney David L. Freidberg. With more than 17 years' experience as a Chicago defense attorney, David L. Freidberg has built a reputation as an aggressive defense attorney who will explore all avenues of possible defense, and can help you prove all the elements of self-defense to prevent a battery conviction. Contact our Chicago, Skokie or DuPage County office 24/7 at 312-560-7100 to schedule a free initial consultation.