A prolific shoplifter, who was previously convicted of stealing $ 2 million in merchandise from Toys "R" Us stores in 2012, was arrested and charged with burglary for attempting to steal paintbrushes from a Hobby Lobby in Lombard, IL.  According to a report, the suspect, Ignatius Pollara of Tamarac, IL, served two years in jail for the Toys "R" Us thefts, which involved 139 store locations in 27 states.  He now faces charges in DuPage County.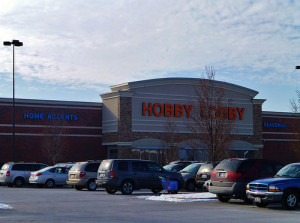 Allegedly, Pollara took paintbrushes from a Hobby Lobby in Lombard, IL and hid them in his pants near the small of his back.  After doing so, Pollara tried to leave the store and was immediately apprehended.  Police in DuPage and Cook County were alerted beforehand that Pollara was planning a trip to the Chicago area from Florida. They tailed Pollara in the Chicago area, where he spent four nights in different motels, each near a major shopping center.  Additionally, police placed a tracking device on Pollara's rental car, and a search of the vehicle revealed suspected stolen merchandise. He is charged with one count of felony burglary.
Retail Theft vs. Burglary
Here, Pollara was charged with burglary. A person commits burglary in Illinois if he or she enters or remains in a building, house trailer, watercraft, aircraft, motor vehicle, railroad car without authority; and does so with the intent to commit a felony or theft inside. Prosecutors have to prove beyond reasonable doubt that the charged individual entered (or remained) with the intent to commit theft or some other felony. Pollara was apprehended attempting to leave the Hobby Lobby with hidden items taken from the store. His pattern of staying in motels near retail stores, along with stolen merchandise found in his car, may be used as evidence to prove that he entered the hobby lobby with the intent to commit theft inside.
Illinois has stringent retail theft or shoplifting laws. In Illinois, a person is guilty of retail theft if he or she knowingly takes possession of, carries away, transfers, or causes to be carried away or transferred any merchandise displayed, held, stored, or offered for sale in a retail establishment with the intention of retaining such merchandise of depriving the merchant permanently of the possession, use, or benefit of such merchandise, without paying the full retail value.
If the value of the items was $300 or less, the retail theft is a Class A misdemeanor. If the value was greater, the defendant can be charged with a Class 4 felony. However, if the defendant has a prior conviction of retail theft, or any theft-related offense such as robbery, armed robbery, residential robbery, possession of burglary tools or home invasion, the offense is automatically a Class 4 felony.
Burglary Penalties
Burglary is considered a Class 2 felony in Illinois, which is punishable by three to seven years in prison.  However, if the suspect had not been convicted of a class 2 felony or greater within the previous ten years, up to four years of probation may be available. If the burglary involved someone's home, it is considered residential burglary, which is much  more serious. It becomes a Class 1 felony, which is punishable from four to fifteen years in prison and probation is unavailable.
Chicago Burglary Attorney
Burglary and retail theft are serious charges, and convictions can have life-changing consequences.  If you or a loved one has been arrested on suspicion of burglary or retail theft, contact Chicago criminal defense attorney David L. Freidberg. With more than 17 years' experience as a Chicago defense attorney in burglary cases, David L. Freidberg has built a reputation as an aggressive defense attorney who will explore all avenues of possible defense. Contact our Chicago, Skokie or DuPage County office 24/7 at 312-560-7100 to schedule a free initial consultation.
Photo Credit: Nicholas Eckhart via Compfight cc