Chicago police received 48,141 reported incidents of domestic violence in 2013, including reports of assault, battery and unauthorized use of a motor vehicle. During that same time period they received 171,077 domestic violence-related calls. Domestic violence is a serious issue that affects not only the parties involved, but collateral victims as well, most notably the children. Most of the focus on domestic violence revolves around men as the batterer and women as the victim. But a recent Chicago murder highlights the fact that men can also be victims of domestic violence.
Chicago Domestic Dispute Ends With Woman Fatally Stabbing Boyfriend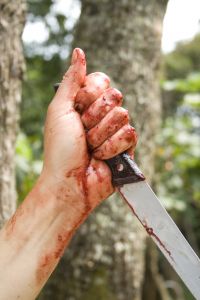 Miata Phelan, a 24-year-old pregnant woman who lives in Chicago, stabbed and killed her boyfriend, 28-year-old Larry Martin, on Cinco de Mayo. Why? Because he allegedly purchased gifts for his eight-year-old son and his cousin on a trip to the mall and nothing for her, even though her birthday was the next day.
Prior to the stabbing, Phelan reportedly kicked and scratched Martin in the car as punishment for his selfishness, and then took off with the vehicle when Martin stopped to run another errand, forcing him and his eight-year-old son to walk home, where he found the front door of the house locked. When he was finally able to get inside, Phelan stabbed him in the side with a knife – in full view of his son – screaming, "I hope you die."
Martin died a few hours later at the hospital; Phelan was charged with first-degree murder.
Multiple Domestic Violence Charges in Single Incident
Although Phelan is charged with murder, this incident contains many elements of domestic violence and highlights the escalation of abuse, albeit in a compacted time frame. Each action on its own could be a crime under Illinois' domestic violence laws:
Verbal abuse: screaming and calling Martin selfish because he seemingly failed to buy her a birthday present gift
Battery: kicking and scratching
Theft: driving away in Martin's car
Aggravated battery:the stabbing
Murder:end result of the stabbing
Like many domestic violence cases, the violence escalated from verbal to physical abuse, with this case ending on the most extreme end of the physical abuse scale. In this case that escalation seemingly occurred in the same episode, although it is unclear if Phelan had a history of escalating domestic violence against Martin, and this was the culmination of months of abusive behavior.
Had Martin survived – and assuming he left her – Phelan's actions would have subjected her to civil penalties as well as criminal. Martin would have most likely been able get an order of protection against Phelan, which could have resulted in her being forced to move out of the couple's home, and could have caused her to lose her job. Her ability to gain custody of the couple's unborn child would also have been adversely affected, as violence against one parent is a factor the court considers when making an award of child custody.
Absent the murder, this case is typical of many domestic violence incidents and demonstrate how much a single incident of domestic violence can impact numerous aspects of a person's life. A skilled criminal defense attorney understands these long-lasting ramifications and is experienced in defending against domestic violence charges and civil orders of protection.
Chicago Domestic Violence Attorney
Whether you've been charged with a domestic violence crime or are defending against an order of protection, you need an experienced Chicago criminal defense attorney on your side. Being convicted of domestic violence, or having an order of protection issued against you, can have serious long term consequences, even if no jail time is involved. The Law Offices of David L. Freidberg, P.C. is experienced in handling all types of domestic violence cases. If you live in Chicago or the surrounding suburbs, contact us or call our Chicago, Skokie or DuPage office today at 312-560-7100 for a free consultation. We are available 24/7 for your convenience.