The Illinois Senate unanimously passed a bill that would move petty, non-violent offenders out of the Cook County jail system on an expedited basis. The bill, which creates a pilot program in the Cook County Jail, is aimed at releasing low-level offenders of crimes such as retail theft and criminal trespass from jail within 30 days of booking. It now moves on to the House.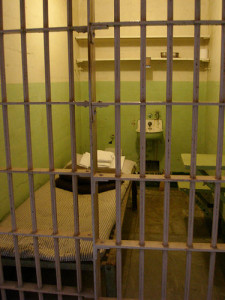 Chicago "Rocket Docket" Bill
The Accelerated Resolution Court Act, or the "Rocket Docket" bill, was pressed by Cook County Sheriff Thomas J. Dart as a means of relieving the high taxpayer cost associated with incarceration and minimizing the inequity faced by defendants charged with petty, non-violent crimes. Often times, low-level offenders spend an outrageous amount of time in jail for their crimes not because they pose a risk to society, but because they cannot afford to post bond.
To highlight the need, Sheriff Dart posts weekly case studies that highlight the amount of time low-level offenders spend in jail awaiting trial, the charged crime and the amount of money it costs taxpayers to incarcerate the defendant. The studies are truly outrageous:
A homeless woman spent 135 days in jail, at a cost of $19,305, for stealing two plums and three candy bars;
A homeless woman, who suffers from mental illness, is repeatedly arrested for criminal trespass at public places, mainly after she begins shouting obscenities at patrons; her most recent arrest, for trespass at O'Hare, netted her 51 days in jail at a cost of $7,293 to taxpayers.
There are at least a dozen other such studies, most involving homeless people with mental illness and/or alcohol problems. They are repeatedly placed in jail for these non-violent offenses – many of which are committed due to a need for food or shelter for themselves. They remain in jail until their case is completed, whether due to dismissal, plea or jury trial, and then return to the streets following completion of their sentence without having received any assistance for their underlying issues, whether that be alcohol and drug abuse, mental illness or the lack of a place to stay. The result – they cycle right back through the system.
Accelerated Resolution of Petty Cook County Crimes
Under the bill, in order to be eligible for participation in the Accelerated Resolution Court Act, the defendant must be:
In custody 72 hours after bond was set;
Unable to post bond or ineligible to be placed on electronic home monitoring, and;
Charged with either retail theft of property valued at $300 or less or criminal trespass to property.
Defendants who have been convicted within the past 10 years of a violent crime, such as murder, rape or kidnapping, cannot participate in the program.
Cook County Sheriff's officers refer appropriate cases to the Accelerated Resolution Court, which then has 30 days to hear the case. If the defendant's case is not heard within 30 days of referral, he is released on his own recognizance. This does not mean that the defendant walks free. Rather, he is released from jail until the case is resolved; he can still later be tried, convicted and put back in jail. Without the program, non-violent offenders who are unable to post bond often spend more time in jail awaiting trial than the sentence that would be imposed if convicted at trial.
Chicago Criminal Defense Attorney
Defendants charged with non-violent crimes need an experienced criminal defense attorney as much as those charged with violent crimes. The amount of jail time a non-violent offender can spend in jail awaiting trial is often times vastly disproportionate to the severity of the underlying charged. Chicago criminal defense attorney David L. Freidberg can help. With more than 17 years' experience defending clients against non-violent petty offenses, Mr. Freidberg can help resolve your case quickly, whether that be getting the charges dismissed or gaining an acquittal at trial. Contact our Chicago, Skokie or DuPage County office today at 312-560-7100 to schedule a free initial consultation. Somebody is available 24/7 to take your call.
Photo Credit: MarkDoliner via Compfight cc