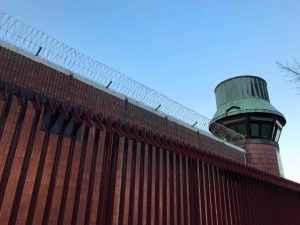 There has been a preliminary hearing to consider whether the civil rights of a prisoner who has been in solitary confinement for eight years were violated. This was not a final ruling but rather permission to proceed with the case. That means that there was either probable cause or serious constitutional issues that had to be dealt with by the court on the case.
The full court reversed a summary judgement that had earlier been passed against a federal inmate. The prisoner had brought a petition about his constitutional due process and rights. Aaron Isby had been convicted of robbery as well as serious bodily harm in 1989. He was imprisoned at the Pendleton Correctional Facility.
When an inmate, Isby had had an altercation with a counselor. He was gassed and apprehended by a cell-extraction team. A dog died during the incident. The inmate actually stabbed two officers. This led to a charge and conviction of attempted murder as well as battery. Another 40 years were added to his sentence.
Regular Movements of Aaron Isby in the Prison System
Over the years the inmate had gone through major conduct reviews and reports as he was moved around a range of correctional institutions within the state. In 2006 he was placed in the Wabash Valley Correction Facility. After being initially put in the general population, Isby was later put in solitary confinement for eight years to date. Issues of public safety have been given for this decision.
The conditions of the confinement are harsh. He only gets one hour of exercise outside his cell every day. They also let him out of the cell for visits and consultations, but he is denied access to education, vocational activities, and work. These programs are open to other inmates.
The discrimination has been justified by the prison authorities on the grounds that the inmate is violent and dangerous. According to witness testimony from the officers, Isby is argumentative and disrespectful. He had also refused to sign up for reconditioning programs. In 2014 the inmate was advised that he was going to be transferred to a transition unit in New Castle.
The inmate refused and demanded that he be released into the general population at the Wabash prison. He then filed a motion that his continued placement in isolation was a violation of his constitutional rights under the 8th Amendment of the US Constitution. His lawyers argued that this was cruel and unusual punishment.
The Violation of Process Rights Under the 14th Amendment
Another argument that was raised by the inmate was that his reviews were contrary to the 14th Amendment of the US Constitution. The prison authorities requested a summary judgement saying that they were qualified to immunity under the law. This request was granted by Chief Judge Jane Magnus-Stinson.
The judge argued that the inmate was not cooperating with the efforts to transfer him to the main population and therefore could not complain to the courts if he was not transferred. Later on 7th Circuit Judge Joel Flaum allowed the inmate to continue with his claim despite the three strikes rule under people who bring frivolous cases are required to pay filing fees upfront.
The court noted that the length of solitary confinement was disturbing and a matter of public concern. It was suggested that the reviews were just a pretend exercise which was predetermined to keep in solitary confinement since there were many long periods during which he had no disciplinary issues but was still placed in solitary confinement. You can contact David Freidberg Attorney at Law at 312-560-7100 to get further support if you or someone you know has been in solitary confinement for a long time.
(image courtesy of Javier Villaraco)