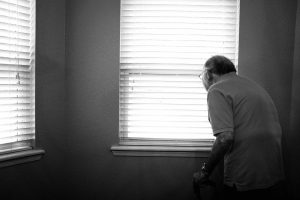 Cook County State's Attorney Kim Foxx will decide whether or not to press charges against employees at a Lincoln Park nursing home who swindled a resident with dementia out of $700,000. Public Guardian Charles Golbert took custody of 98-year-old Grace Watanabe removing her from the care of Symphony Residences.
Watanabe was removed in 2018 after her bank noticed a series of unusual withdrawals and alerted authorities. Currently, there is a civil action against the Nursing Home naming individual staff members who attempted to drain the woman's bank account dry. Those close to the woman, however, are hoping that criminal charges are filed against those who directly perpetrated the theft. Criminal charges would take precedence over civil charges and that case would be prosecuted first. If the defendants in the criminal case lose in court, it severely limits their ability to defend themselves in civil court.
Golbert Asks for Criminal Charges Against Five Employees
Foxx has said that she will decide whether or not to press criminal charges in the coming weeks. Golbert noted that while being deposed in the civil case, these five elected to invoke their Fifth Amendment rights against self-incrimination. 
The money harvested from Watanabe's bank account involved ATM withdrawals and forged checks. The forged checks, at a minimum, are proof of a crime and can be used to begin prosecution. Symphony has cut ties with the employees and issued a statement saying that they are complying with law enforcement requests for information. However, Golbert accused Symphony of playing the long game in the hopes that Ms. Watanabe would die before they faced liability. The woman has no living relatives, but has named two charities in her will that could step in as plaintiffs on behalf of her estate.
Golbert has been critical of Foxx's handling of this case, issuing statements that the case is "rock solid" and there is more than enough evidence to begin a criminal prosecution. Golbert that the same five employees could be working somewhere else and doing the same thing to another patient. Foxx replied that they are still evaluating all the evidence and had just received new information. 
Untangling Who Did What
It is not entirely clear what evidence Golbert has against nursing home employees, but the standard of proof in a criminal trial is higher. In a case where you have five employees who are all accused of the same thing, you have to be able to prove who individually did what. It may be difficult for prosecutors to determine who stole what money and when they stole it individually. In a civil case, the plaintiff's attorney need only prove that the nursing home was negligent in the process of allowing one of their patients to be exploited in this matter. They will not have to prove which employee stole what money. This gives their defense attorneys significant leverage as they can all blame one another for conducting the majority of the theft leaving a jury to scratch their heads as to who was the "main" culprit.
Talk to a Chicago Criminal Defense Attorney Today
If you have been accused of theft or forging checks, David Freidberg will force the prosecution to prove every element of their case beyond a reasonable doubt. Call us today at (312) 560-7100 or contact us online for more information.