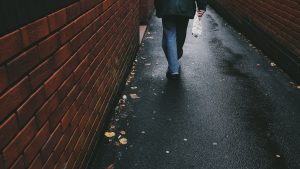 A man involved in a bizarre love triangle was charged with murder after a shooting in Evanston. Sandoval Cobian, 38 years old, is facing murder charges after allegedly shooting his romantic rival in the north suburb. The Chicago native was charged with two counts of first-degree murder, as reported by Evanston police.
On Friday, March 15, officers found Angel Miranda, 33 years old, suffering from multiple gunshot wounds to the abdomen and chest. He was located behind a residence in the 1800 block of Simpson Street and pronounced dead at the scene, according to the Cook County medical examiner's office.
Miranda, who was a resident of the Little Village neighborhood of Chicago, was visiting his girlfriend. She found him shot and called authorities. Investigators later learned Cobian and Miranda were romantically involved with the same woman. Police reported that Cobian shot Miranda because of jealousy and a "romantic rivalry." Cobian was ordered held without bail. His next court date is set for the end of March.
If you are facing murder charges, contact a murder criminal defense attorney as soon as possible.
The Difference Between Homicide and Murder
Homicide is defined as the unlawful killing of another individual. Homicide is categorized by a person's level of liability in the act. Liability is determined by the someone's actions that lead to the death, the role he or she played, and his or her intentions. There are different types of homicide:
Murder

Assisting suicide

Causing suicide

Involuntary manslaughter

Voluntary manslaughter

Reckless homicide

Feticide (the killing of a fetus)
Murder is a type of homicide. It, too, has its own set of classifications:
The most widely accepted definition of murder is

intentionally or knowingly killing someone

. A person knows that his or her actions will kill someone, but proceeds anyway.

A person may not intend to kill another person. Instead, they are convicted of

killing someone while committing another felony like rape, kidnapping, robbery, arson, and more

. The intention of committing the underlying felony makes that person liable for murder.

If you are dealing illegal drugs or controlled substances, you could be convicted of

killing someone while committing or attempting to commit distribution of a controlled substance

. If you are a drug dealer and someone dies as a result, you are culpable in that murder.

The final classification is

intentionally or knowing killing a fetus capable of living outside the womb

.
Work with a Chicago Murder Criminal Defense Lawyer
It is no secret that Chicago continuously ranks at the top of the list of American cities with a high crime rate. In order to fight crime and increase the level of safety in communities, local police have been working with federal agents. Often, their methods are investigation-centric so they can make quick arrests. Data has shown that the majority of successful prosecutions have involved arrests that transpire within 48 hours after a murder.
Though the murder rate may decline as officers make arrests, the integrity of the investigation may be sacrificed to do so. Key evidence may be overlooked in an effort to expedited process.
Your best chance or reducing the severity of the charges leveled against you is to work with an experienced criminal defense attorney like David L. Freidberg. Murder is an offense that can put you in prison for the rest of your life. Do not put your freedom at risk. If you or someone you love is facing murder charges, call (312) 560-7100 or schedule a free consultation immediately to discuss your case.
(image courtesy of Mingyue Sun)