A Herald report indicated that Luke Bertolini, a Manhattan, IL resident, is facing several charges in relation to a shootout near Channahon, including aggravated unlawful use of a weapon, reckless discharge, and criminal damage to property.  According to the report, Bertolini was in a restaurant in Wilmington when he ran out and started shooting a gun.  He apparently asked the bartender, "Can you fight?," then went outside and fired two or three shots in the marina.  After the shots were reported, county and state police arrived to assist. Bertolini had left the restaurant before they arrived in a yellow vehicle driven by a blond female. Witnesses in the restaurant seemed to indicate the Bertolini seemed to be under the influence of drugs at the time.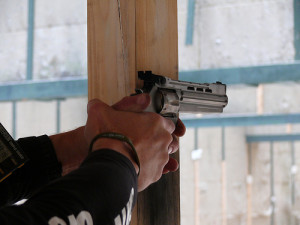 The police later located Bertolini's vehicle driving north on I-55, and the police officer who spotted the vehicle activated his emergency lights to stop it. After stopping, Bertolini exited from the passenger side of the vehicle with two handguns. He then exchanged gunfire with the police, but was apprehended without anyone being struck. Police also arrested the female driver of the vehicle.
Firearm Crimes in Illinois
In Illinois, a person is guilty of aggravated unlawful use of a weapon when he or she knowingly carries or has a vehicle or concealed somewhere in his body any pistol, revolver, stun gun or taser or other firearm while present on any public street, alley, or other public lands within the corporate limits of a city, village or incorporated town. Additionally, the firearm must be uncased, loaded and immediately accessible at the time of the offense or the firearm possessed uncased, unloaded and the ammunition for the weapon was immediately accessible.
A related charge is reckless discharge of a firearm. A person is guilty of this offense if he or she discharges a firearm in a reckless manner which endangers the bodily safety of another. Additionally, if this crime was committed by a passenger of a moving motor vehicle with the knowledge and consent of the driver, the driver is also accountable for the conduct and may be similarly charged. To determine whether the discharge was reckless, the prosecution would have to prove the the suspect consciously disregarded a substantial risk that discharging his or her weapon would pose a danger to the safety of another in a way that does not reflect what a reasonable person would do in a similar situation.
Reckless discharge can be elevated into an aggravated crime if the suspect fired the weapon in the direction of another person or group of people, into a vehicle or structure from outside, or if the suspect used a silencer.
Penalties for Conviction of a Weapons Charge
Aggravated unlawful use of a weapon is considered a Class 4 felony that can result in a sentence of one to three years in prison and a fine of up to $25,000. Courts are permitted to sentence defendants to probation. A second offense is considered a Class 2 felony with a mandatory prison sentence from 3 to 7 years, which is non-probationable.
WIth regard to aggravated reckless discharge of a firearm, this is considered a Class 1 felony. It is punishable with a 4 to 15 year term in prison, and a maximum fine of up to $25,000.
A conviction of a firearms charge by itself can carry a significant prison sentence. It often comes with other charges, which can present complex issues when it comes to defense. If you or a loved one has been arrested on suspicion of a weapons charge, contact Chicago criminal defense attorney David L. Freidberg. With more than 17 years' experience as a Chicago defense attorney, David L. Freidberg has built a reputation as an aggressive defense attorney who will explore all avenues of possible defense against a weapons charge. Contact our Chicago, Skokie or DuPage County office 24/7 at 312-560-7100 to schedule a free initial consultation.
Photo Credit: Iron Sights via Compfight cc