The Illinois Supreme Court recently upheld a Chicago man's conviction on a charge of aggravated discharge of a firearm toward a police officer, despite the fact that the defendant did not fire the weapon and claims he was unaware the shooter was armed.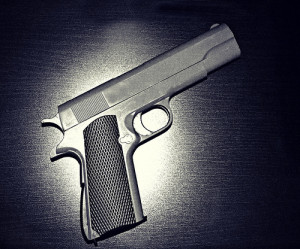 Illinois Common Criminal Design Rule
In People v. Fernandez, Fernandez was convicted of a single charge of aggravated discharge of a firearm toward a police officer (he was initially charged with one count of burglary and two counts of aggravated discharge, but the trial court merged the three charges into a single charge). Fernandez and his friend drove to a church under the Dan Ryan Expressway, where the friend attempted to burglarize a vehicle. Fernandez' friend was approached by a police officer and opened fire as Fernandez drove away.
Fernandez claimed he had no idea that his friend had a gun.
A Chicago resident commits the crime of aggravated discharge of a firearm toward a police officer if he "knowingly or intentionally" discharges a firearm in the direction of a police officer. If Fernandez did not fire the weapon, how, then, could his conviction have been upheld?
In a previous post I discussed the felony murder rule, which allows a defendant who commits a forcible felony to be charged with murder if the victim dies during the commission of the felony, even though the defendant did not cause the victim's death. The theory behind the felony murder rule is that forcible felonies are inherently dangerous crimes, so the defendant should know there is high likelihood that the victim will be injured or killed.
The common design rule is the felony murder equivalent to non-forcible felonies. Under the common design rule, if two or more people are involved in a common design agreement, any acts committed by one party in furtherance of that common design "are considered to be the acts of all parties . . .and all are equally responsible for the consequences of those further acts."
Fernandez argued that because he did not know that his friend was armed, he cannot be held responsible for aggravated discharge of a weapon toward a police officer, and because he did not know his companion planned to commit that crime. The court rejected this argument, stating that because Fernandez admitted that he intended to help his friend burglarize the vehicle (by knowingly driving him around town looking for vehicles to burglarize), he is equally responsible for his friend's conduct. "Conduct", the court stated, "encompasses any criminal act done in furtherance of the planned and intended act." In this case, Fernandez' companion discharged his weapon toward the police officer in furtherance of the burglary, i.e., in an attempt to evade arrest.
Therefore, under the common design rule, just as in the felony murder rule, intent is irrelevant. What is relevant is whether the defendant intended to commit the underlying crime. If the prosecution can prove that, then all parties to the crime are responsible for the actions of the others.
Chicago Common Design Attorney
If you have been charged with aggravated discharge of a firearm or any other Illinois misdemeanor or felony under the common design rule, contact Chicago criminal defense attorney David L. Freidberg today. With almost two decades worth of experience defending against all manner of criminal charges, David L. Freidberg is a tenacious fighter for the rights of his clients, and will thoroughly examine all the evidence in your case to gain an acquittal or reduction in charges. With offices in Chicago, Skokie and DuPage County, we are available for a free consultation 24/7. Contact us today at 312-560-7100.
Photo Credit: Daniel CJ Lee via Compfight cc