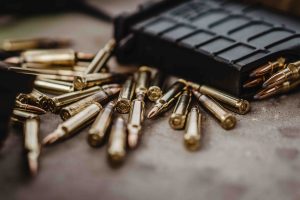 Vertis Peterson was out on bond for an unrelated weapons charge when police say he repeatedly shot his neighbor's brother multiple times. Records show that Peterson posted a $200 bond after being charged with felony weapons possession and a misdemeanor count of marijuana possession. 
According to police, Peterson was standing on his porch next to his grandmother when he got into an argument with his neighbor's brother, a 63-year-old man who had the apparent misfortune of walking down the block at the same time Peterson was on the porch. Peterson pulled a .22 on the man and allegedly fired it six times hitting him in the hip, abdomen, and arm. The 63-year-old survived the assault, but not Peterson is facing an attempted first-degree murder charge. His grandmother refused to allow him entry to her home after he emptied his revolver into the neighbor's brother. The man was able to identify Peterson in a photo lineup. 
Peterson has two prior convictions for domestic battery.
Not Looking Good for Vertis Peterson
A conviction of attempted first-degree murder can lead to a life sentence and since Peterson is facing two other charges and was out on bond when he shot the neighbor, a judge may be inclined to impose the maximum felony. However, most attorneys in a case like this would try to plead the charge down to second-degree attempted murder. 
Unlike other states, Illinois does not have a statute for voluntary manslaughter for homicide unless the victim is an unborn child. So voluntary manslaughter, also known as a crime of passion, simply is not an option for Peterson, as the victim was not a fetus. Instead, Peterson will need to show that his crime more closely fits the definition of second-degree murder than first-degree murder.
In order to successfully argue that Peterson did not commit attempted first-degree murder, the defense will need to prove that even though Peterson fired the gun, he was acting under some kind of extreme emotional duress. In other words, Peterson will need to show that the victim either provoked him or that Peterson believed that the crime would have been justified under the law, but he was wrong. In this case, the former mitigating factor seems more likely. 
A major problem for defendants who are trying to reduce a first-degree murder charge is that they are in the position of proving that any reasonable person in their situation would have been similarly provoked to action. It is unclear whether or not Peterson can successfully make that argument, but the attack occurred after an argument had broken out between the two, so it is not outside the realm of possibility, either.
Talk to a Chicago Criminal Defense Attorney Today
If you have been charged with a serious crime in Chicago, call David Freidberg at (312) 560-7100 or contact us online. We represent defendants in all types of criminal trials and can help you raise a viable defense to the charges.