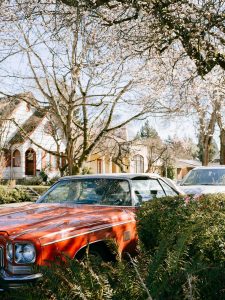 Michael Bailey was about to retire when prosecutors say that Antwon Carter attempted to steal the Buick he had bought himself as an early retirement present. Police say that Bailey attempted to defend himself, but Carter fired back. After Bailey's wife, Pamela, heard the shots, she ran down the stairs and found her husband lying with his eyes open on the ground. He later died at the hospital.
While Bailey was off duty, he had just finished his shift and was still wearing his uniform when the altercation took place. The crime went unsolved for a year until inmates claim that Carter bragged about the shooting. The case is now a decade old.
Carter is being charged with felony murder, among other things.
Did Carter Lie about Committing the Murder?
In this case, the defense lawyers for Carter are admitting that he did try to take credit for the murder. However, they are claiming that the only reason he did that was to build up his reputation among other inmates. Carter's defense attorneys are saying that he fabricated taking credit for the crimes and that his recounting does not match up with physical evidence from the scene. However, the confession could be enough to send Carter away for life. Juries tend to convict those who confessed to crimes. Similarly, there is very little sympathy for someone who took credit for a murder that angered residents and destroyed a family.
Prosecutors are Lacking Physical Evidence or Eye Witness Testimony
The prosecution does not have a "star" witness who can attest to seeing the murder take place. Nor do they have any physical evidence linking Carter to a murder weapon. They do not have a legitimate motive, either. There is an assumption that because Carter fired the weapon at a police officer, that he must have had some reason for doing so. Carter's trial was delayed when the prosecution sought first to convict him of charges related to carjacking. They were successful. They will use that evidence to bolster the notion that Carter was attempting to steal the officer's new Buick.
What the prosecution does have is multiple witnesses claiming that Carter tried to take credit for the murder. The defense will argue that he heard about it or read it in the paper and wanted the stature of a cop killer in prison in order to get others to lay off of him.
Will Prosecutors Convict Antwon Carter?
Carter is not a likable character. While the police are lacking direct evidence of the murder, a case like this will not come down to reasonable doubt, it will come down to which side's story is more credible. In this case, Carter claims he lied about the murder to bolster his reputation. That he sought to bolster his reputation with the murder is not in question, it is the credibility of his own confession. The prosecution will use jailhouse informants to drive the point home with the jury but the apparent paradox of whether or not Carter is credible when confessing to the crime or denying it will be lost on jurors. Then it will boil down to who is more credible: The guy we know lied one way or the other or the family of a slain police officer? Unfairly, these cases often result in convictions despite lacking evidence.
Talk to a Criminal Defense Lawyer in Chicago
David Freidberg, Attorney at Law, fights for the rights of those who are charged with crimes in the Chicago area. Contact us today at (312) 560-7100 and we can begin discussing your options.
(image courtesy of Jaron Nix)