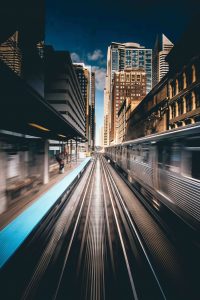 Serious crimes like murder make the news headlines. However, crimes like assault and theft are far more common in Chicago, Illinois. In fact, your chances becoming a victim of these non-index crimes might be higher than the police and the security department are telling you.
Reports of "non-index" crime on the Chicago Transit Authority (CTA) are on the rise. They seem to surpass the rate of such reports for the last two years. Some of these non-index crimes are cases involving criminal sexual abuse. They include sexual harassment without any physical contact and inappropriate touching.
Since early 2015, there has been reported 145 cases of criminal sexual abuse on the CTA. Surprisingly, in 2015, only 44 cases of criminal sexual abuse were reported. This data was released by the Chicago Sun-Times after analysis of the Chicago Police Department's data on non-index crimes. Note the non-index crimes are ones perceived as less than the index crimes such as rape, robbery, and murder.
The L system, particularly, has experienced an uptick in sex-related crimes that can be categorized as either felonies or misdemeanors. Approximately 2,003 non-index crimes have been reported in the CTA during the year 2017. These crimes include drugs and substance abuse, vandalism, fights, gambling, and more. In 2016, there were approximately 2,006 such reports. In 2015, 2,036 similar cases were reported.
The Sun-Times also revealed that close to 50% of petty crimes in 2017 on the CTA were reported inside the L. This includes L trains, subways, and train platforms. It also includes buses, track areas, parking facilities, and bus stops. Compared to 2015 and 2016, most of these crimes on CTA property were more prevalent on buses. 480 non-index crimes were reported in 2016, and 499 crimes were reported in 2015.
Unfortunately, the police can not account for the number of arrests made on the reported cases. But, over 50% of the cases have not been solved yet. Simple battery can range from anything between a fist fight and a slap. It is among the most frequent of the non-index crimes that are increasing each day. Vandalism reports are going up, as well, with 429 cases reported as of November 11, 2017. In 2016, up to 302 vandalism cases were reported. In 2015, 348 vandalism cases were reported. This clearly shows that in 2017, there has been a significant increase in vandalism cases reported.
According to a report released by the Sun-Times in July, more serious CTA-related crimes increased by 16% in 2016. Surprisingly, the police managed to solve less than 10% of the reported cases in the city. The newspaper also revealed that the CTA does not track all types of crimes. However, according to a transit source, the agency was loath to make the entire system seem dangerous in the numerous suburbs where it operates. Neither Chief Pat Daly, the CTA security chief and a former FBI agent, nor Dorval Carter Jr., the CTA president, responded to any request for comments regarding this issue.
Do You Need Legal Help?
Being convicted of a crime, whether non-index or index, can have a devastating effect on your livelihood, future, and freedom, as well. Fortunately, a skilled criminal defense lawyer can diligently fight for your rights. In some cases, wrongful convictions happen. The only way to win such court cases is by having a highly skilled lawyer on your side.
If you need professional advice and support regarding criminal convictions, then consider contacting David Freidberg Attorney at Law through 312-560-7100. We provide excellent attorney services and professional advice to people facing different criminal charges.
(image courtesy of Sawyer Bengtson)