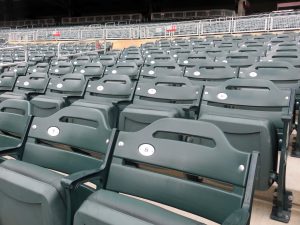 According to the Chicago Tribune, a Pittsburgh Pirates infielder who was in town to play the Chicago Cubs on June 17 has been accused of sexually assaulting a 23-year-old woman in Chicago. The sexual assault allegation is currently being investigated by police, but the baseball player has not yet been charged with a crime. According to the police, the Chicago woman made contact with the infielder via a dating app and the two agreed to meet at his hotel room at approximately 10 p.m. The woman alleges that that he served her one alcoholic drink that caused her to black out roughly 15 minutes later, and that he sexually assaulted her while she drifted in and out of consciousness. The alleged victim had a rape kit done two days later and filed a complaint with the police 10 days after the alleged sexual assault took place. While this woman took action quickly to have a rape kit done and file a police report, it is important to know that after a sexual assault occurs there is a timeframe within which rape kits must be done and sexual assault charges must be filed in order to be effective.
Rape Kits
A 'rape kit', also referred to as a Sexual Assault Evidence Kit (SAEK), is a sexual assault forensic exam kit that is used to collect DNA evidence from a victim's body, clothing, and other personal belongings after a crime is committed. Rape kits are used to help sexual assault victims preserve possible DNA evidence in case they decide to report that they were attacked. During a sexual assault forensic exam the survivor will generally be examined from head-to-toe, evidence will be collected, and follow up care will be recommended. According to Cleveland.com, rape kits can usually recover testable evidence within 96 hours of an assault. Therefore, the fact that the alleged victim in the sexual assault case outlined above had a rape kit conducted two days after she went to the baseball player's hotel room should not have prevented DNA evidence from being collected.
Illinois' Statute of Limitations on Sexual Assault Charges
Many states have a statute of limitations that bars sexual assault charges from being filed after a certain amount of time has passed. In Illinois, our state's statute of limitations generally prevents a sexual assault charge from being filed more than 10 years after the act was committed, provided that the victim reported the act within three years. In other words, as soon as a sexual assault occurs the alleged victim must report the crime within three years and formal charges must be filed within 10 years or else Illinois' statute of limitations prevents the alleged defendant from being charged with the crime.
What Can We Do to Help?
David L. Freidberg is a Chicago criminal defense attorney with more than 20 years of experience aggressively defending his clients against sexual assault charges. If you are being investigated for a sex crime in Illinois contact our office in Chicago (312-560-7100), DuPage (630-574-1000), or Skokie (847-674-5400) for a free and confidential consultation to discuss your legal options.