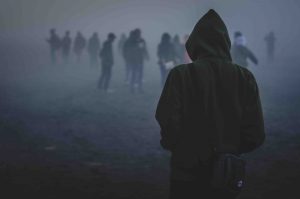 Bernard Harvey, an Indianapolis man, has been charged with unlawful possession of a weapon by a felon the day after he discharged it outside a VA hospital several times before entering the hospital. This, of course, created a panic as the man entered with the semi-automatic rifle. No one was harmed during the event.
Harvey will be charged in federal court and under federal law for restrictions involving felons who illegally possess weapons. 
Felon in Possession of a Firearm
Generally, federal laws have mandatory minimum sentences and defendants are less likely to see plea bargains. The law regarding unlawful possession of a weapon can be found in 18 U.S. Code § 922. Essentially, any individual with a felony on his or her record is prohibited by federal law from transporting, purchasing, or possessing a firearm. Sentences can range up to 10 years, but the average sentence is between 45 and 75 months. 
If the defendant has three or more state or federal criminal convictions, then he or she faces a mandatory minimum sentence of 15 years.
One of the major problems with federal law is that operates like a cold piece of machinery. Mandatory minimum sentences tie both defendant's and the judge's hands when sentencing those convicted under the laws. 
Clearly, in a case like this, we are talking about someone who was not in his or her right mind when deciding to walk down the street firing a weapon. This is likely someone who was dealing with mental health problems. When Harvey walked into the building, the officers demanded that he drop the rifle, and he complied. This may have even been an instance of someone who was trying to get caught. Should we treat this man the same way as we treat an individual who had a gun for the purpose of committing some violent crime?
What was Harvey's Motive?
In most cases, it is not difficult to establish what a defendant's motive was. But Harvey had no manifesto, no apparent political agenda, he was not out for revenge, and there was no apparent monetary incentive to walk into the VA with a gun. 
In the courtroom, the judge asked Harvey to state his name and age and asked directly whether or not Harvey was able to understand the proceedings around him. 
Harvey was sentenced in 2000 on a felony drug conviction and then again in 2005 for being a felon in possession of a weapon. He has also spent some time in psychiatric care. 
While the debate rages over mental health and gun control, this will likely turn into one of those forgotten cases because no one was injured or killed. Yet Harvey, even though he was clearly mentally ill, never seemed to have any desire to hurt anyone, and that fact should not be overlooked.
Talk to a Chicago Criminal Defense Attorney
There are federal laws that govern the right to possess weapons, so when someone does so illegally, it can be the federal government and not the state government that prosecutes the crime. If you have been charged under federal law, you need an attorney who can fight for you in federal court. Call David Freidberg at (312) 560-7100 to set up an appointment.
(image courtesy of Hajran Pambudi)