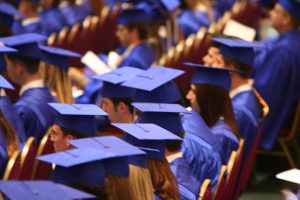 One in five women will be sexually assaulted while in college, according to a recent study by the Association of American Universities. Despite the alarming prevalence of rape on campuses, many universities remain complacent or unresponsive in reacting to reports of rape. The aggressive White House initiatives and campaigns, led by a task force formed in 2014, have transformed the way colleges and universities respond to allegations of sexual misconduct, as well as the level of awareness among college students about rape and the culture of rape.
Ending sexual violence on campuses across the nation has been one of the Obama Administration's most passionate policy initiatives since 2011. The Department of Education and Vice President Biden published a comprehensive guideline for universities to help them understand their legal obligations under federal law. In January 2014, the administration established the White House Task Force to Protect Students from Sexual Assault. In April of that year, the Task Force launched a public awareness and education campaign called "It's On Us." to further advance and galvanize efforts across the nation to prevent sexual assault. The campaign has sought "to fundamentally shift the way we think about sexual assault, by inspiring everyone to see it as their responsibility to do something, big or small, to prevent it." See White House Press Release on "It's On Us."
Since the launch of the campaign, more than 344,400 people have taken the White House pledge, and 530 schools in 48 states currently have active It's On Us chapters. Reports of campus sexual assault have surged in the last few years, which legal experts attributed to increased awareness and knowledge of the issue.  
In Illinois, the NIU rape case motivated State Representative David Harris to introduce a bill entitled Investigations of Sexual Assault in Higher Education Act, which would confer municipal police and the sheriff primary authority for investigating sex crimes on campuses. Campus police would play a supporting role. The campus police department of Northern Illinois University was criticized for mishandling accusations from a student that a campus police officer had sexually assaulted her in October 2011. Among other things, the department was found to have concealed evidence. Harris believes that his bill will help correct the bias that may exist in campus policing, namely the desire to prevent bad publicity for the school. Harris' bill was stalled in committee and it is unclear if and when it will move forward to become law.
Consent is often the most important issue in many campus sexual assault cases. Governor Rauner signed a law in August 2015 that will become effective on August 1, 2016 that requires all universities and colleges in Illinois to adopt a comprehensive policy on sexual violence that includes a definition of consent that,
"at a minimum, recognizes that consent is free given agreement to sexual activity, a person's lack of verbal or physical resistance or submission resulting from the use or threat of force does not constitute consent, a person's manner of dress does not constitute consent, a person's consent to past sexual activity does not constitute consent to future sexual activity, a person's consent to engage in sexual activity with one person does not constitute consent to engage in sexual activity with another, a person can withdraw consent at anytime, and a person cannot consent to sexual activity if that person is unable to understand the nature of the activity or give knowing consent due to circumstances, including without limitation the following:
the person is incapacitated due to the use of influence of alcohol or drugs;

the person is asleep or unconscious;

the person is under age; or

the person is incapacitated due to a mental disability." See

HB821

.
These requirements go beyond the definition of consent under the Illinois Criminal Code in adding details. See 720 ILCS 5/11-1.70.  Universities and colleges are free to include a more demanding definition consent in their sexual assault policies.
Sexually-based offenses are amongst the most serious prosecuted in the State of Illinois. It is important that you know what your rights are and how to protect them. If have been accused of criminal sexual assault or any other crime, it is crucial to have an attorney present with you during interrogations. Knowing your rights is the first step in the process, so if you are being charged with a any crime, including murder, sexual assault, or battery, and would like to discuss all of the potential defenses available to you, call an experienced criminal defense attorney at the David Freidberg law office today, at (312) 560-7100, or send an email, for a no-obligation consultation.