The Illinois legislature is considering enacting new laws that would decriminalize possession of small amounts of marijuana. The proposed bills fall short of legalizing pot, as Colorado and Washington do, but would instead align Illinois with 16 other states that no longer incarcerate individuals caught with small amounts intended for personal use. The bills are part of a growing movement that perceives marijuana as less dangerous than other drugs. They also seek to alleviate the burden of arrest, prosecution and incarceration of individuals caught with small recreational amounts.
Proposed Changes to Illinois Possession of Marijuana Laws
There are three bills currently working their way through the Illinois legislature seeking to lessen the penalties for different forms of marijuana possession.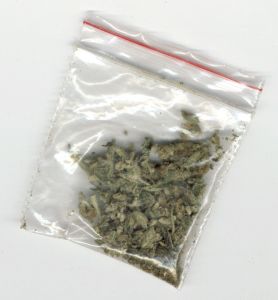 Two bills seek to lower the penalties for marijuana possession for personal use, and increase the amount of marijuana that is considered "for personal use".
House Bill 5708, which was introduced by Reps. Kelly M. Cassidy and La Shawn K. Ford of Chicago, would classify possession of not more than 30 grams of marijuana or any marijuana-containing substance as a petty offense. Those in possession would receive a ticket and be fined $100. Possession of anywhere from 30-500 grams would be classified as a Class A misdemeanor for a first offense, and a Class 4 felony for a second offense. Currently Class 4 felony and Class 3 felony for a second offense.
House Bill 4299, sponsored by Chicago Rep. Christian Mitchell, makes similar changes to the law as House Bill 5708, but varies the amounts allowed for possession. Under Rep. Mitchell's bill, possession of 10 grams or less of marijuana would be a petty offense punishable by no more than a $100 fine.  Possession of between 10 and 30 grams would also be a petty offense punishable by no more than a $100 fine for a first offense; a second offense would be a Class A misdemeanor (currently it's a Class 4 felony).
Chicago Rep. Michael Zalewski introduced House Bill 4091, which would reclassify possession of not more than 30 grams of marijuana as a petty offense, unless the individual had two or more prior convictions, in which case he would be charged with a Class A misdemeanor.
Cost of Prosecution for Illinois Marijuana Possession
Part of the rationale behind the proposed changes in the marijuana possession law is the cost involved in prosecuting what are essentially victimless crimes. In 2011, 663,032 people were arrested nationwide for marijuana possession. There were 100,000 more arrests that year for marijuana possession than for violent crimes. More people were arrested for smoking dope, when the only arguable victim was him or herself, than people arrested for actually causing harm to another person.
Chicago arrests follow that trend – an average of 23,000 arrests each year for marijuana possession, about equal to the number of arrests for assault and battery combined. And the city is spending approximately $78 million to arrest, prosecute and incarcerate these so-called "offenders." The Chicago police estimate it takes two officers approximately three hours to arrest an individual for marijuana possession, from the time they slap the cuffs on him to the time they file their paperwork. Three hours for the "crime" of lighting up takes away man hours that could be spent patrolling the streets looking for other crimes.
There is also the human cost involved with arrest for marijuana possession. There is the cost to the defendant of hiring an experienced attorney to help defend the case. Under the current law conviction under the lowest offense, a Class C misdemeanor, could result in up to 30 days in jail and up to a $1,500 fine. A person convicted may be required to report the misdemeanor on future job, housing or school applications, putting his ability to work and live where he wants in jeopardy.
Chicago Marijuana Possession Attorney
If passed, any of these new bills would reduce the penalties for marijuana possession and avoid jail time for this victimless crime. Until then, a conviction for marijuana possession still carries the possibility of jail time and fines. If you or someone you know has been arrested for marijuana possession, you need an experienced marijuana possession attorney to help you aggressively fight the charges and avoid jail time.  For an immediate response, call us at 312-560-7100 or  contact our Chicago office today for a free consultation.