My 22 year old client, with no criminal background, was charged with Armed Robbery and Aggravated Battery.  This case carried a mandatory 21 year sentence if convicted because there was an allegation that a firearm was used during the offense.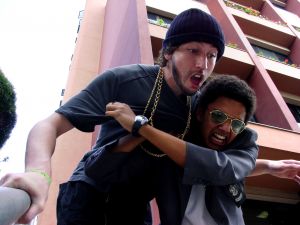 My client was charged along with another co-defendant after they allegedly robbed a pizza delivery guy.  Even though my client did not possess the weapon, because he was "involved" the state's attorney was attempting to use the law of accountability to charge him with the same crime as the co-defendant.  The law of accountability states that a defendant must engage in a common criminal design or agreement, any acts in furtherance of that common design committed by one party are considered to be the acts of all parties.
And I tell all of my clients, even if I believe they have a difficult case, you never know what will happen when an officer or civilian victim testifies.  In this case, the officer's sworn report stated that my client actually took possession of the pizzas, after his co-defendant held a gun to the victim's head, and ran into a neighboring house.  There were also allegations that not only was a gun held to the victim's head, but that three other masked individuals were involved who attacked the victim, causing bodily harm.  At trial the victim made no mention of my client possessing a firearm or taking possession of the pizzas.  A motion was made after the state's attorneys rested their case for a directed finding of not guilty.  The judge heard arguments from both sides and determined that my client could not be found guilty and found my client NOT GUILTY!  And my scared client did not even have to testify.  720 ILCS 5/18-2
If you have been charged with Armed Robbery or Aggravated battery in Chicago or the surrounding suburbs, we invite you to contact Attorney David L. Freidberg at 312-560-7100 for a free consultation. We are available 24/7 to discuss your defense.